If you're shopping for shoes online for your kids, you may be having trouble picking the right shoe size. Shoe sizing for kids can sometimes be inconsistent – and without being able to try the shoes on in a store, you always run the risk of choosing the wrong size, and having to send the shoes back for a refund – which can be inconvenient.
So, in this article, we'll discuss everything that you need to know about choosing the right size of shoe for your children, and provide you with some helpful charts to assist you when choosing shoes for your kids.
Average Children's Shoe Size By Age Chart
| Age | US shoe size | Foot length (inch) |
| --- | --- | --- |
| 0 yrs. | 0.5 - 4 | 3 1/2 - 4 3/4 |
| 1 yrs. | 4.5 - 7 | 4 7/8 - 5 5/8 |
| 2 yrs. | 7.5 - 8.5 | 5 3/4 - 6 1/8 |
| 3 yrs. | 9 - 9.5 | 6 1/4 - 6 3/8 |
| 4 yrs. | 10 - 11.5 | 6 5/8 - 7 |
| 5 yrs. | 12 - 12.5 | 7 1/8 - 7 1/4 |
| 6 yrs. | 13 - 13.5 | 7 3/8 - 7 1/2 |
| 7 yrs. | 1Y - 1.5Y | 7 5/8 - 7 7/8 |
| 8 yrs. | 2Y - 2.5Y | 8 - 8 1/4 |
| 9 yrs. | 3Y - 3.5Y | 8 3/8 - 8 1/2 |
| 10 yrs. | 4Y - 4.5Y | 8 5/8 - 8 7/8 |
| 11 yrs. | 5Y - 5.5Y | 9 - 9 1/4 |
| 12 yrs. | 6Y | 9 3/4 |
What Size Fits What Age? This average shoe size by age chart gives you a good overall idea of how large a child's feet typically are at each stage of their growth and development – from baby up to youth. Your child will, on average, be around the size indicated on this chart. However, each child is different, so you may find that your results differ.
Average Babies' Shoe Size By Age Chart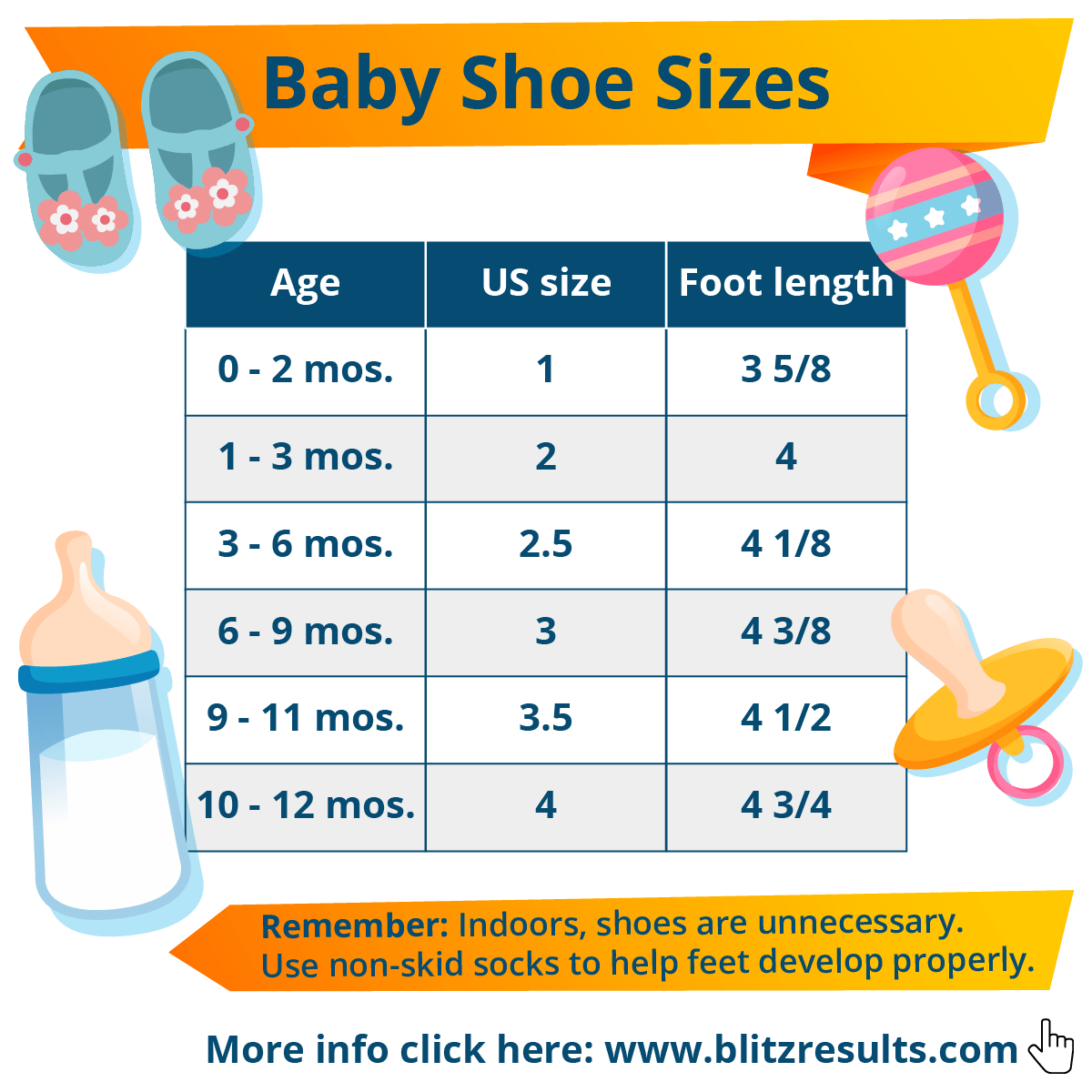 | Age | US shoe size | Foot length (inch) |
| --- | --- | --- |
| 0 - 2 mos. | 0.5 - 1.5 | 3 1/2 - 3 7/8 |
| 1 - 3 mos. | 2 | 4 |
| 3 - 6 mos. | 2.5 | 4 1/8 |
| 6 - 9 mos. | 3 | 4 3/8 |
| 9 - 11 mos. | 3.5 | 4 1/2 |
| 10 - 12 mos. | 4 | 4 3/4 |
Caution with children's shoe sizes by age!
Choosing your children's shoe size by age is not always the best idea. Some kids develop faster than others – and depending on whether your child is smaller or larger than average for their age, these charts may not be accurate. Again, we always recommend using these charts as a "rule-of-thumb" – for the best results, you should always make sure you measure your child's feet before shopping for shoes online!
How Do Kids Shoe Size Chart By Age Work?
It's simple! Just find your child's age on the left-hand side of the kids shoe size chart by age. Then, read along the row that states your child's age – and you'll be able to see your child's shoe size, based on their age. Again, this is only an estimate, and can vary based on each individual child.
International Conversion (US, Euro, UK, MX, Asian etc.)
If you're shopping for a shoe that's not in standard US sizes, this chart is sure to help. Just check the left-hand column to find the US size you're looking for. Then, read through the row of the US size you're looking for, and you'll see conversions to Euro, UK, Asian, and Mexican sizes. This will help you convert your child's shoe size properly, and shop for shoes from international companies.
How To Measure Feet
The easiest way to measure your kid's feet at home is to simply trace their foot, and measure the length between their heel and toe. You'll need:
A ruler
A piece of paper
A pencil
Stand your child up, and trace their entire foot on the piece of paper, using the pencil. Make sure their foot is totally flat, and their toes are not curled.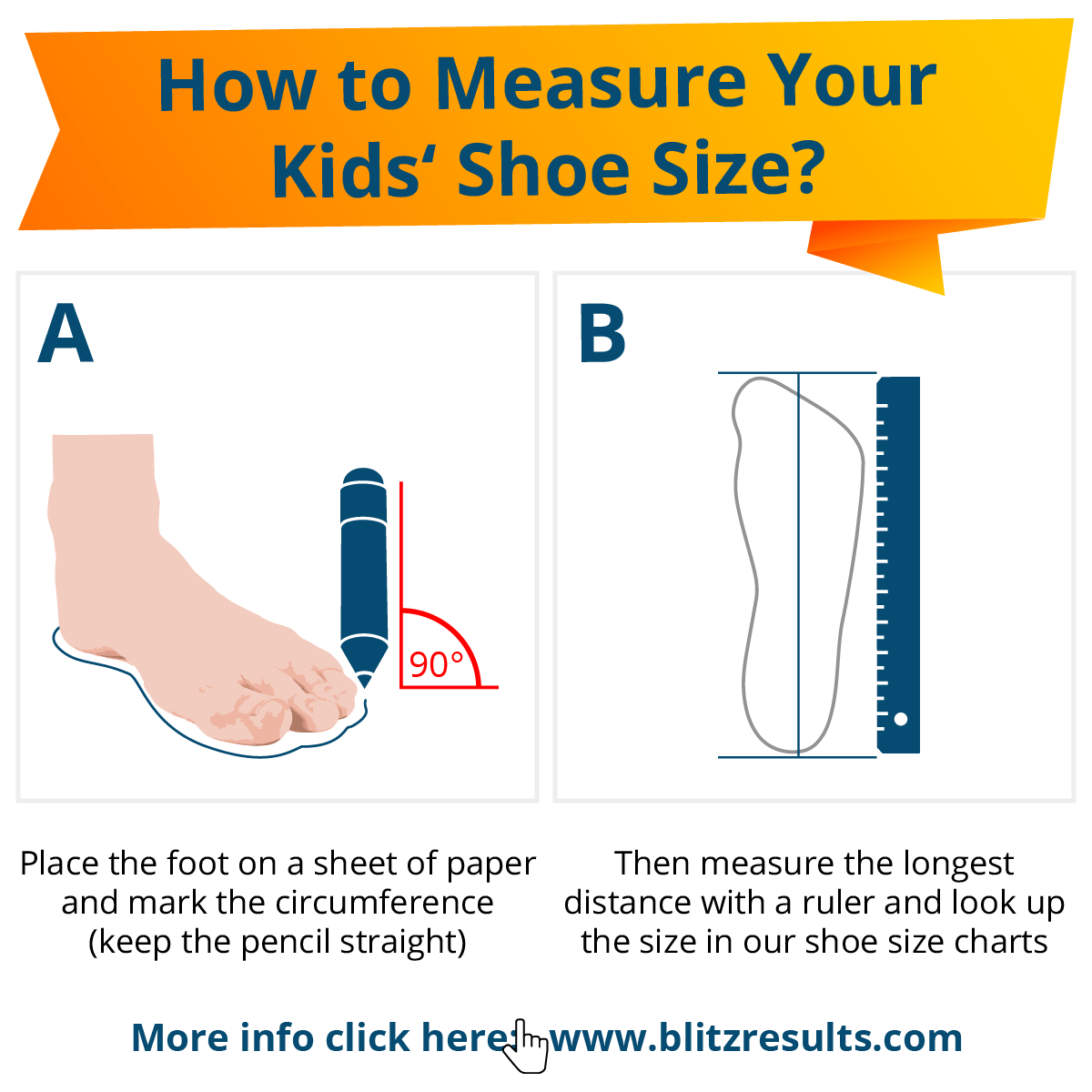 Then, remove the paper and draw a line starting directly behind their heel, all the way to the front of their longest toe. Add about 1/4 inch to this measurement for "wiggle room." This is the length of your child's foot – and by using this measurement and our sizing charts, you'll be able to make sure their shoes fit properly. Note that if your child's current shoes have less than 1/2 inch of space for the feet, it's time to buy new shoes!
Also, make sure you measure both feet! One of your child's feet could be bigger or smaller by up to 1/2 inch – so measure both feet, and base your child's shoe size on the larger foot.
How To Check If Shoes Fit
Don't rely only on the "toe test" either – squeezing the tip of the shoe to see if there is room for your child's toes. Kids tend to curl their toes when you do this, so you may get an inaccurate measurement.
Instead, grasp the front of the shoe, so your child can't move their toes. Then, check the space at the back fo the heel with your other hand, to feel if there is enough room for your child's foot to grow.
There should also be a small gap between the heel and the rear of the shoe. However, the heel should not move up and down too much – if it does, re-adjust the laces. If the heel still moves a lot, the shoe is too loose.
How Fast Do Children's Feet Grow?
Between the ages of 0-2, a child's foot can grow about 1 inch per year. From the ages of 2-5, the growth rate is usually around 0.75 inches per year, and about 0.5 inches per year from ages 6-11.
Because of this, it may be necessary to measure your child's feet regularly, to make sure they're not wearing shoes that they've outgrown. This could cause foot problems and discomfort, so make sure you measure your child's feet every few months.
What Age Do Children's Feet Stop Growing?
For girls, foot growth is usually concluded by the age of 13. However, boys usually take longer to develop, so their feet usually aren't done growing until the age of 15 years.
How Many Sizes Does A Child's Foot Grow In A Year?
This depends on the age of your child, and whether you're shopping for adult shoes or kid's shoes. It's not uncommon for children to jump by two shoes sizes     per year, so measure their feet every 2 months to make sure their shoes fit correctly, and you're ordering the right size.
What Is The Difference Between Little Kid And Big Kid In Shoes Sizes?
Little kid shoe sizes typically are for kids between the ages of 4-8, and usually ranges from size 10-3 – which corresponds to a foot length of 6.5-8.5 inches. Toddler shoes are often also included in this group, ranging from size 10-12.
Big kid shoes are for kids between the ages of 8-12. They range from size 3.5 to 7, with a length of between 8 5/8 and 9 3/4 inches. This is equivalent to women's sizes of between 5-8.5.
Infant shoes are measured in sizes of between 1/2 to 4, which corresponds to 3 1/4 and 4 1/2 inches in length, respectively.
What Shoe Size Is A 3 Year Old?
Generally, you can expect a 3 year old to wear a size between 8-10 in little kid shoes or toddler shoes. This is above average. Again, though, your child may differ, so we always recommend measuring their foot when possible, to ensure you choose the right size shoe for their particular needs.
What Is The Average Shoe Size For A 1 Year Old?
On average, a 1 year old usually has a shoe size of between 3-4 in infant shoes, and may also be able to wear a size 5 toddler shoe. We recommend measuring your child's foot, as their shoe size may differ based on their development and size.