A parent's guide on how to pick the right shoe size for newborns, infants, and toddlers. Measurement guide + how to keep their tiny feet in tip-top health.
How Do Baby Shoe Sizes Work?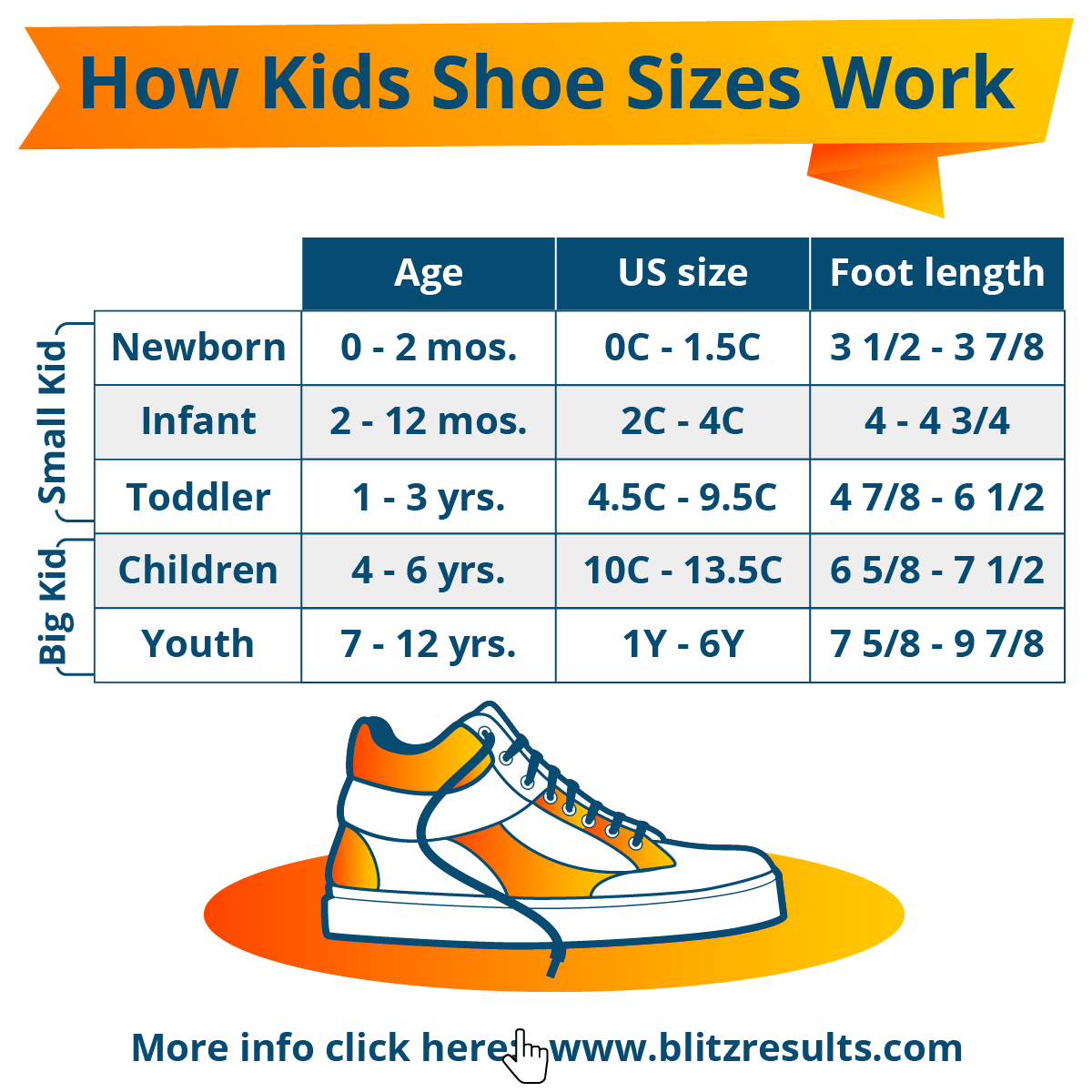 Baby shoes sizes are not just smaller versions of adult's sizes. It's a totally different category of shoe sizes specifically tailored for the foot measurement of newborns, infants, and, toddlers using foot length in inches.
Unlike adults sizes, baby and toddler shoe sizes are the same for both girls and boys – it's pretty much just the color that tends to be different. Baby shoe sizes are subcategorized into those for newborns (0-2 months), infants (2-12 months) and toddlers (1-3 years).
Baby shoes also serve different purposes for growing children. When toddlers start walking for example, shoes give protection to their developing feet. The feet of toddlers, after all, are just made up of a mass of cartilage which fully develops not until their late teens so it is important to get the correct shoes.
Remember: Using hand-me-down shoes is okay, as long as they are not worn out. Be sure to wash and disinfect them!
Newborn Shoe Sizes
Socks and booties are commonly used for babies 0-2 months old.
While they may not need shoes at this point, newborns still need to wear socks or booties to protect their feet from the cold. Baby socks are usually made from hypoallergenic, lightweight and breathable materials such as cotton or wool.
| Age | US shoe size | Foot length (inch) |
| --- | --- | --- |
| 0 - 2 mos. | 1 | 3 5/8 |
| 1 - 3 mos. | 2 | 4 |
Infant Shoe Sizes

Shoe sizes for infants are designed for the little ones with an approximate age of 2-12 mos.
Baby shoes at this stage are necessary as they begin learning how to walk, or at least balance.
Indoors, walking barefoot or in non-skid socks helps develop their foot muscles. Opt for soft-soled shoes outdoors.
| Age | US shoe size | Foot length (inch) |
| --- | --- | --- |
| 0 - 2 mos. | 0.5 - 1.5 | 3 1/2 - 3 7/8 |
| 1 - 3 mos. | 2 | 4 |
| 3 - 6 mos. | 2.5 | 4 1/8 |
| 6 - 9 mos. | 3 | 4 3/8 |
| 9 - 11 mos. | 3.5 | 4 1/2 |
| 10 - 12 mos. | 4 | 4 3/4 |
Toddler Shoe Sizes

Toddler shoe sizes are for kids with age approximately around 1-3 years old.
Shoes for little kids at this point require more durable, but still soft and flexible materials, as they engage in more activities by this age.
Indoors, as they learn how to walk or stride, kids should spend some time barefoot or in socks with rubber soles to prevent slip.
Outdoors, fit, form, and function, should be key considerations.
| Age | US shoe size | Foot length (inch) |
| --- | --- | --- |
| 13 - 15 mos. | 5 | 5 |
| 16 - 18 mos. | 6 | 5 1/4 |
| 21 - 24 mos. | 7 | 5 5/8 |
| 2 yrs. | 8 | 6 |
| 3 yrs. | 9 | 6 1/4 |
How to Measure Baby Shoe Sizes
There are many different ways to measure the shoe size of your little kid.
Some are more simple than others and require lesser materials.
A Brannock device, the standard tool used to measure the foot size, is not suitable for babies.
Some size converters are also available online but nothing beats actually letting your kid fit the correct shoe before buying, but for those that want to do it at the comfort of their own home, here are the two best ways:
Measuring your Baby's Feet with a Tape Measure
Prepare the tape measure, paper, and pen for noting the measurements.
Let your baby lie on floor and measure.
Start measuring your baby's feet size by putting the tape measure on both the length and width of child's foot. Repeat the process 2-3 times to make sure you are getting the most accurate approximate size.
Write down the measurements (use inches for US sizes).
Using a 1:1 Shoe Sizing Guide Scale
Download a printable baby shoe size guide or size converter and set the printing scale to 100%. This will ensure that the size guide has the same ratio as the child's foot.
Follow the specific instruction provided in the shoe size chart or guide that you printed. Each size guide tends to have different methods but in general, you'll just need to let your baby step on the guide with the biggest toe aligned with the toe in the size guide.
Write down the measurements. Do this for both feet.
Printable Shoe Sizing Guide for Babies and Kids
How to Check if Baby Shoes Fit
Babies foot measurement grow very quickly as their body develops. Kids shoe sizing is said to change two sizes annually as their foot measurement increase. Thus, it is important to ensure that their shoes are still the right size as they grow along.
When your baby starts removing the shoe, dragging it when walking or when your little kid trips frequently, it may be time for bigger shoe size. Sometimes, you will also notice some red marks on their feet which means their shoes are too tight and you need to adjust to a bigger one.
You could also do a manual check for comfort and see if the shoe still fits your little kid properly:
To check whether the shoe length is still comfortable, place one hand on the front part of the foot to allow the toes to flatten on the shoe. Using the other hand, insert a finger to check whether there is enough space between the heel and the shoe.
While your baby is wearing the shoe, insert your pinkie finger between the heel and the back part of your child's shoe and see whether it still fits there. If not, the shoe may be too small and needs replacement to a bigger size.
To test the shoe width, have your child wear them preferably in the afternoon to accommodate the usual swelling of the feet within the day. Pinch the sides of the shoes. Ideally, you should be able to grasp some material or space between the shoe and the widest part of your child's foot. Very little space means it's too tight and your child may experience constant rubbing of the skin to the side of the shoe which could result to blisters and feet corns. You may also consult width charts.
Remember: Fit, form, and comfort should be the main considerations when buying kids shoes. While fashion trends are tempting, baby boots, high-heel clogs, and other fashionable footwear are not recommended for little kids since they won't provide the necessary support needed for children at this stage, most of them just learning how to walk or stride.
In terms of materials, opt for baby shoes made of cloth or canvas which allows constant air circulation and flexibility for easy bending.
Shoe Size by Month
Use the size charts below to help you find the right shoe size for your baby based on their age in mos.
Baby Shoe Size Chart
To make it easier for you find the right shoe size for your newborns (0-2 months), infants (2-12 months) and toddlers (1-3 years), use the conversion chart below to see kids shoe size, by foot measurement and age.
| Foot Length in Inch | US Shoe Size | Approx. Age |
| --- | --- | --- |
| 3 5/8 | 1 | 0 - 2 months |
| 4 | 2 | 1 - 3 months |
| 4 1/8 | 2.5 | 3 - 6 months |
| 4 3/8 | 3 | 6 - 9 months |
| 4 1/2 | 3.5 | 9 - 11 months |
| 4 3/4 | 4 | 10 - 12 months |
| 5 | 5 | 13 - 15 months |
| 5 1/4 | 6 | 16 - 18 months |
| 5 5/8 | 7 | 21 - 24 months |
| 6 | 8 | 2 years |
| 6 1/4 | 9 | 3 years |
Infant and Toddler Shoe Size Chart
| Age | US shoe size | Foot length (inch) |
| --- | --- | --- |
| 13 - 15 mos. | 5 | 5 |
| 16 - 18 mos. | 6 | 5 1/4 |
| 21 - 24 mos. | 7 | 5 5/8 |
| 2 yrs. | 8 | 6 |
| 3 yrs. | 9 | 6 1/4 |
Tips for Buying Baby Shoes
Add 0.5 – 0.7 inches for the shoes to give your child's feet enough wiggle room and not restrict the proper growth of their feet. A poor fit could lead to more serious problems later on.
After measuring both feet, when it is time to shop for the shoes, make sure to use the longer foot measurement as basis for the size. Better have an allowance rather than buy a pair that only fits one foot.
As babies feet increase rapidly, make sure to measure their size often. It is recommended that foot measurement is taken every 2-3 months in the first 24 mos of age to ensure correct shoe size.
If buying shoes that you plan your child to wear with socks measure their foot size while wearing them to anticipate the additional length and width needed for proper fit.
Before buying shoes online, identify the sizing standard used whether it is in US, UK or European size to make sure that the size conversion is correct.
US shoe size is different from European shoe sizes. Euro size is also different from UK measurements. To convert baby shoes for newborns from the US to the UK, just remember that UK shoes are usually just one-half size lower than US sizes.
Socks or shoes?
There is no clear rule to follow on whether parents should opt for their little ones to wear socks or shoes although in general socks are better to keep babies feet warm and cozy, while shoes are for outdoors. Recommended materials for socks for babies include soft cotton with some elasticity to keep it on the baby's feet.
For toddlers who will start learning to walk by this age, a soft soled shoe made of lightweight, breathable materials is necessary to protect the child's feet from rough surfaces and splinters when outdoors.
Non Slip Socks
Non-slip socks keep your toddlers from slipping since it has rubber grips on the sole for better hold on smooth surfaces.
Baby Sock size chart
There are two size standards for socks: Some socks are measured by age while others use foot length in inch as basis for the size.
| Age | US shoe size | Foot length (inch) |
| --- | --- | --- |
| 0 - 2 mos. | 0.5 - 1.5 | 3 1/2 - 3 7/8 |
| 1 - 3 mos. | 2 | 4 |
| 3 - 6 mos. | 2.5 | 4 1/8 |
| 6 - 9 mos. | 3 | 4 3/8 |
| 9 - 11 mos. | 3.5 | 4 1/2 |
| 10 - 12 mos. | 4 | 4 3/4 |
FAQs
When should babies start wearing shoes?
Babies should start wearing shoes only when they start walking. Babies commonly wear socks or booties prior to that. For first time walkers, going barefoot is still the best for walking indoors so babies learn to feel what they touch. Children learn how to independently walk between 10-18 mos old.
What are the best shoes for newborns?
Newborns don't need shoes at this point since they are mainly snuggled in bed and are too small to carry the weight of the shoes. Socks are instead more appropriate to keep their feet warm and cozy. Socks made of cotton, wool or a combination of both with enough elasticity is recommended.
What are the best shoes for infants?
Infants, or the babies around 2-12 months, who are yet to learn how to walk are advised to wear something comfortable to just keep the feet warm. The same for newborns, infants are often recommended to wear just socks instead of shoes.
What shoes are best for toddlers?
For toddlers who will start learning to walk at this age, lightweight shoes with breathable materials and anti-skid features should be used to help support the baby as they further strengthen their muscle grip and balance. Too heavy shoes may cause an imbalance and fall. They can progress to firmer soled shoes once they have learn how to walk for a period of time and parents are confident they could walk on their own without falling.
To provide enough wiggle room for babies to roll their foot, shoes are usually given an allowance of  ½ to ¾ inches, added to the foot length. Shoes should also be flexible and breathable to provide ample air circulation.
Do babies wear socks with shoes?
In general, wearing socks with shoes is recommended for everyone, and that includes the little ones. Wearing socks help reduce friction between the feet and the shoes, absorbs mositure and damage to skin from constant rubbing with shoes. However, socks should be properly fitted as very tight socks could also have harmful effects such as hampering the growth of the feet specially for babies and restricting air and blood circulation.
Should babies wear shoes when crawling?
When your baby is just a newborn or in the infant stage, wearing shoes is still unnecessary. When they're crawling, soft socks or at most, non-skid socks with soles will work just fine. This will allow them to move more freely and not worry about supporting the weight of the shoes. Also, no matter how you put it, shoes (and even socks) will still fall off from their tiny feet.
How long should babies wear soft-soled shoes?
Soft-soled shoes in general can be useful until the baby is 24 mos old. Beyond this, babies learn to be confident walking and tend to be more adventurous into walking on different surfaces which may require shoes with firmer sole and sturdier materials.
When can toddlers wear hard soled shoes?
After your toddler reaches 2 years old, you may need to transition to shoes with hard-soled shoes as your little kid learns to walk longer, more freely, and on different surfaces.  Hard-soled shoes provide protection to the feet and are recommended in general when your child is already putting more pressure on their feet while walking.
Do babies have bones in their feet?
Babies feet do not contain any bone but a mass of cartilage. Over time, this will develop into the 28 bones seen in adult foot. Full development happens when the child grows to their late teens.
Ingrown toenail in babies – causes and treatment
An ingrown toenail in a baby is a nail (usually affecting the biggest toenail) that's putting pressure into a skin as it grows or press into that area. It is painful for babies, and shoes early signs such as redness in that skin or swelling.
This condition is commonly caused by nails that grow too long that it tends to curve and pinch on the skin. Wearing very tight shoes or socks could also cause ingrown.
To treat this, soak your baby's foot or the affected toe in a warm, soapy water two times a day and apply an antibiotic cream as recommended. When the affected toe is less swollen, try to etch the toenail out of the cuticle little by little so as not to hurt your baby. To prevent any future occurrence, cut the nails as often as needed to prevent it from growing too long.##